Construction Installation
PTAS follows through with manufacturing to provide specialist switchboard installation sub-contracts.
We operate several fully equipped site installation teams with field and trailer mounted storage and workshop facilities.
PTAS site teams are experienced in the requirements of heavy industry, mining, oil & gas and infrastructure workplaces. They maintain a high level of integrity and dedication to our clients.
Industry training includes:
Confined Space Training (Including Confined Space Medicals)

First Aid, CPR and Low Voltage Rescue Training

Immunisation for Work with Live Sewerage

Experienced Construction Supervisors S1, S2 & S3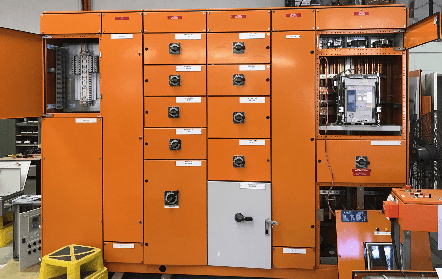 PTAS has also invested in a number of high capacity temporary switchboards that enable mission critical applications to continue through a system upgrade.
Fully type tested modular switchboards rated at 2,500 Amps capable of operating water treatment plants and mining sites.

Outdoor rated switchboards designed to operate pumping stations during change-over.
PTAS supports its construction team with experienced commissioning technicians who undertake the 'Site Acceptance Testing' phase of a project. Beyond this they will be onsite during the change-over to bring the new equipment online.
Their expertise also lies in fault-finding and any modification works required by other engineering disciplines on the project. Once systems are fully operational they can conduct further quality assurance activities, such as thermal scanning and load monitoring.
Would you like to know more?
Our design and engineering services include : conception, design, scheduling, project management, software, installation, commissioning and testing.
We aim to keep our clients completely satisfied from start to finish.
Stay In Contact
PTAS would like to keep you informed on our recent projects, new product innovations, people and commentary on industry issues.