SWITCHBOARD-ONLINE SUPPORT SYSTEM
PTAS have developed and introduced a unique support portal for customers to always have access to as-built drawings, data sheets, safety manuals and much more.
Our team identified numerous innovations that improves safety and productivity for personnel maintaining switchboards and its associated plant and equipment.
All PTAS switchboards are now delivered with a QR code that provides backup 'Installation and Maintenance Manual' documents hosted on a secure private cloud portal.
"Half the time there's no drawings in the panel"
Our secure portal is accessible via a logon / password protected support page on the PTAS website. This website section can be accessed on the website, or by a QR scan included on the switchboard manufacturers label. At this point the owner is required to have the board identifier and the secure password to gain access to switchboard documentation.
If physical switchboard access if provided to maintenance or operation staff via key locks, then an internal QR code is provided with direct access to the switchboard portal.  Further security PINs, admin and/or customer QR codes can be provided as required.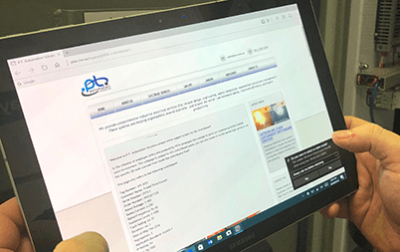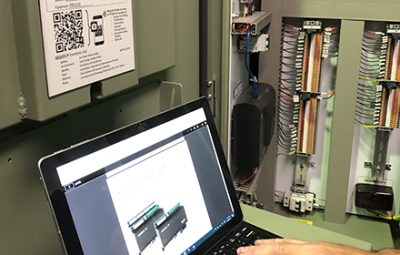 They don't have to use trial and error to find faults."

Too often ("half the time") maintenance personnel are working on switchboards without drawings or manuals, taking unnecessary risks to resolve problems that will get essential plant and equipment back online.
The Switchboard-Online portal provides access to safe working methods, drawings and component manuals. A gallery of referenced as built pics enable technicians to familarise themselves without opening the board. This is safer and faster.
The portal may also allow asset owners to upload up-to-date data on the maintenance or inspection work just carried out. There is additional capacity provided by PTAS to include drawings, data sheets and documentation for mechanical and/or civil components of the project. So, the next time that switchboard's data is accessed, all relevant, up-to-date information is readily available.
All lockable enclosures are now fitted with a scannable QR Code that links directly to the switchboard-online website portal. Clearance for access for technicians is effectively gained by having possession of the key to the enclosure.
Alternatively scan of the QR Code on outside of switchboard with a mobile device will enable standard login via the website.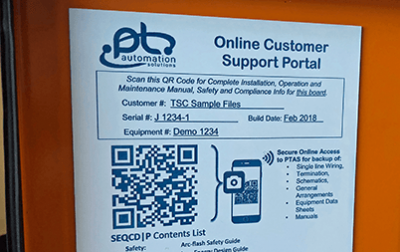 Increased safety for maintenance personnel is provided by ensuring site specific and switchboard specific information is always available. These include;
Safety Manuals
Safe work method documentation

Arc fault PPE requirements known prior
Reduced Exposure to Arc Fault Hazard
Access information without going inside

Avoids need to fault find by circuit tests

Plan upgrades without accessing board
Photos at Multiple Levels
Outside Doors, controls and labels

Escutcheon layer controls

Equipment and wiring installed behind escutcheon

Zoom for detail of part # or wire #
QR-OCSS increased productivity of staff by providing relevant information about the specific switchboard before and during maintenance activities.
Offsite Preparation
Log into switchboard details via website

Familiarize with safety procedures

Understand the system logic, work with supervisor

Isolate the fault area to a section or component

Prepare spare parts. Have the right tools on hand

Refer to drawings and component data sheets

Less system or plant downtime
Site Awareness
Reference photo's, docs; discuss with supervisors

Eliminate wasted travel time

Right people onsite (with subject matter expertise)
Record Maintenance Notes
Leave a maintenance or inspection record for others
Technology associated with the connectivity of devices – the "Internet of Things" (IoT) is rapidly advancing. The QR-OCSS portal provides a key component towards accessing powered devices and equipment contained within and connected to the PTAS switchboards.
Provides a gateway for maintenance personnel

Enables advanced fault-finding

Easy recovery from SCADA or PLC code failures
Wayne & Donovan demonstrate how the PTAS QR Online Customer Support System works in this video.
Scan this QR code with your mobile device from the screen image to link to our demo test site. Explore the menus to see what the QR Online Customer Support System offers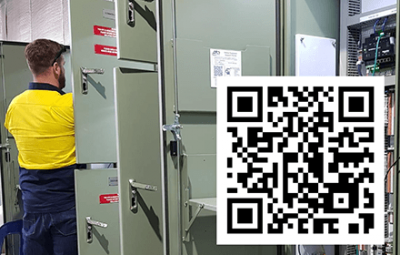 You can access the PTAS Online Customer Support Portal from the login page on this website here by logging into specific pages for each switchboard we supply.
Use the secure login/password, or direct via the QR code inside the switchboard with your mobile device.
How to Login:
• Enter Switchboard ID (Test File = J1234-1)
• Enter 10-digit pass code (Test File = 1234567890)
Scanning the QR Code on outside of switchboard with your mobile device also directs to this form.
Would you like to know more?
Our design and engineering services include : conception, design, scheduling, project management, software, installation, commissioning and testing.
We aim to keep our clients completely satisfied from start to finish.
Stay In Contact
PTAS would like to keep you informed on our recent projects, new product innovations, people and commentary on industry issues.