Switchboard Manufacturing
PTAS's has extensive switchboard manufacturing capability and experience. The company has invested in a number of advanced manufacturing systems that enhance production.
Our fabrication facilities include CNC controlled enclosure machining system, computer-controlled DIN rail and duct cutting, laser label cutting and automated wire cutting, stripping and crimping systems
Fabrication and assembly is undertaken in two flexible workshops (1,000 sqm); one has 4 bays for concurrent multi-board projects, or they can be configured to accommodate four switchboards up to 20m long.
Switchrooms up to 26m x 5m & 55 tonne (with HV, LV & controls) has been built and loaded out from PTAS facilities. Larger projects have been prebuilt, fully FAT tested and shipped.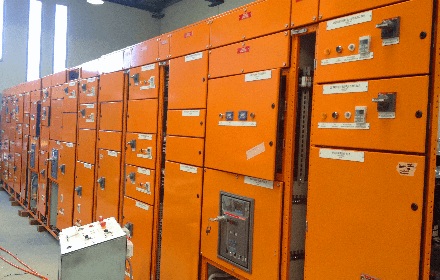 Manufacturing is managed through a group of project electricians who lead teams one of five project work bays. They responsible for a team of 3 – 5 tradespeople, apprentices and trade assistants. This enables PTAS to deliver fast design and build projects; some in 4-8 weeks.
PTAS manufactures with modular systems and bespoke designs to suit a wide range of applications.
CUBIC Modular System
Fixed, Demountable & Withdraw able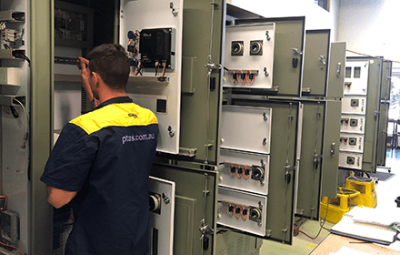 Outdoor IP66 / IP56 Enclosures
Mild steel, stainless and aluminium
ABCD COMPACT MODULAR OUTDOOR SWITCHBOARDS
ABCD Modular Outdoor Board; the PTAS developed solution to the arc fault containment problem with outdoor boards. These switchboards are a major advanced manufacturing focus for the company.
They offer significant improvement in safety and productivity for public utilities and resources industry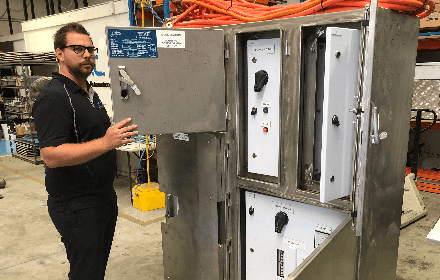 Would you like to know more?
Our design and engineering services include : conception, design, scheduling, project management, software, installation, commissioning and testing.
We aim to keep our clients completely satisfied from start to finish.
Stay In Contact
PTAS would like to keep you informed on our recent projects, new product innovations, people and commentary on industry issues.